BuTel software home page
ARC996 Basic & Pro now available!
'setting new standards: ARC996PRO with fantastic bandscope* option !'
---
ARC996-series is THE programming software for the Uniden BCD996T, ARC996-PRO adds powerful data logging, digital audio recording and a fantastic bandscope*.
---
ARC996 V3 includes the most versatile memory editor available on the market.

ARC996 combines the best of 2 worlds! ARC996 is the only Uniden software that can directly access (*) the RadioReference.com Database and import over 8000(!) trunk and conventional systems directly into your scanner!

QuickKey Overview: 'Drag and Drop' your systems or groups in QuickKeys.

Store latitude, longitude and FCC callsign per system

Built in converter DMS <> DEG format!

Copy/paste groups between systems, building new systems was never this easy!

Read data directly from the RadioReference Database, 'browse' for local trunk systems and let ARC996 do the programming!

'intelli upload': Replaces systems that are stored in your scanner without having to reset your scanner first! ARC996 will never reset your scanner!

ARC996 can program up to 250 channels per group or 5000 channels per conventional system.

ARC996PRO includes full PC Virtual Control and a very enhanced recorder with 'no loss' digital recording technology and data logging.

ARC996PRO: Intelligent Data Storage recorder: wav files are automatically stored in folders based on system/group/date/time.

ARC996PRO wav files are stored per frequency or talkgroup for eay playback.

ARC996PRO includes a fantastic bandscope option (requires BCD996T firmware V3 or higher, bandscope not available with UBC996T model)

Don't have a serial port? ARC996 also works with the Uniden USB-1 cable.

Windows XP/2000/Vista/7/8, minimum 800x600 video, 512 RAM, free serial or USB port (USB requires Uniden USB-1 cable).

Important info for Vista users
---
| Option | ARC996BASIC($39.95) | ARC996PRO($69.95) |
| --- | --- | --- |
| Enhanced Editor for conv./trunk channels | Yes | Yes |
| Multi Trunk site programming | Yes | Yes |
| 'Basic' Virtual Control | Yes | Yes |
| RadioRef Import | Yes | Yes |
| WebCatcher | Yes | Yes |
| Automatic BC996T Firmware check | Yes | Yes |
| Data logging/history | No | Yes |
| Bandscope | No | Yes |
| 'no loss' Harddisk Audio Recording | No | Yes |
| Closecall/Subtone logging | No | Yes |
Check out the clear 'tree' structure: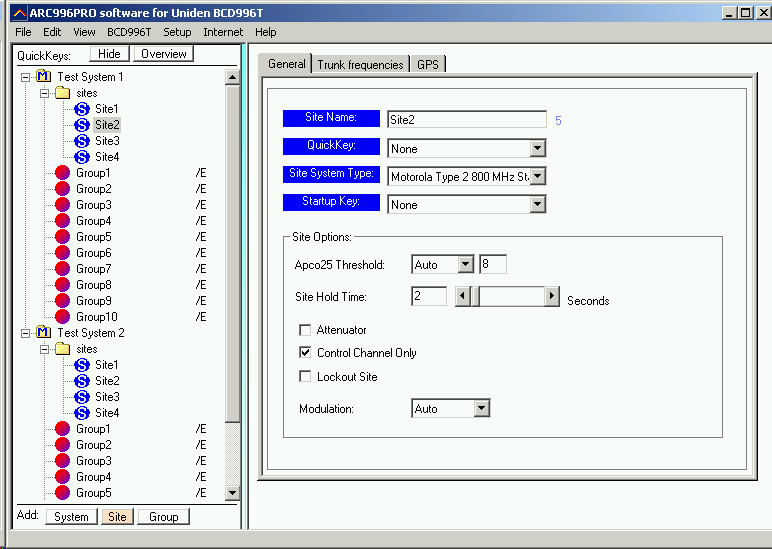 Find latitude and longitude based on US street address or zipcode: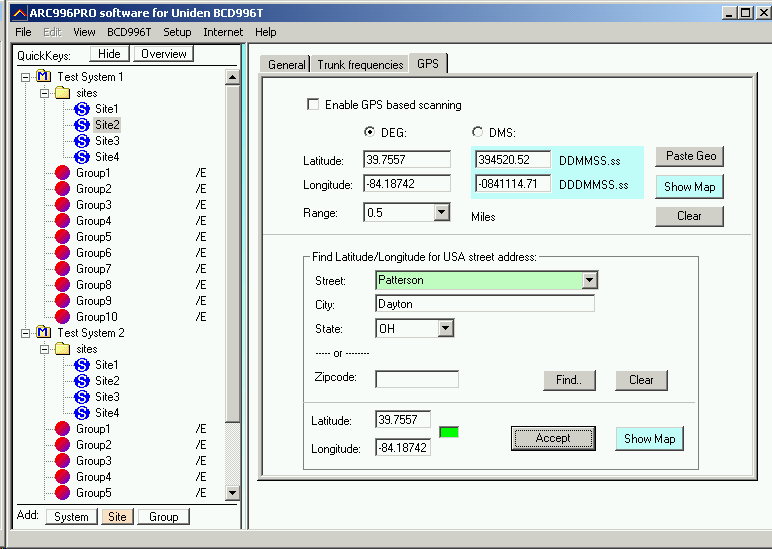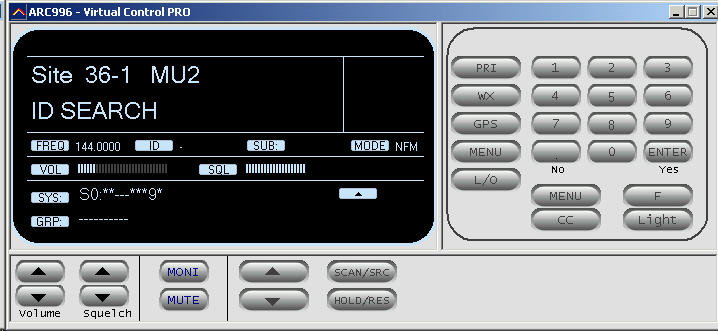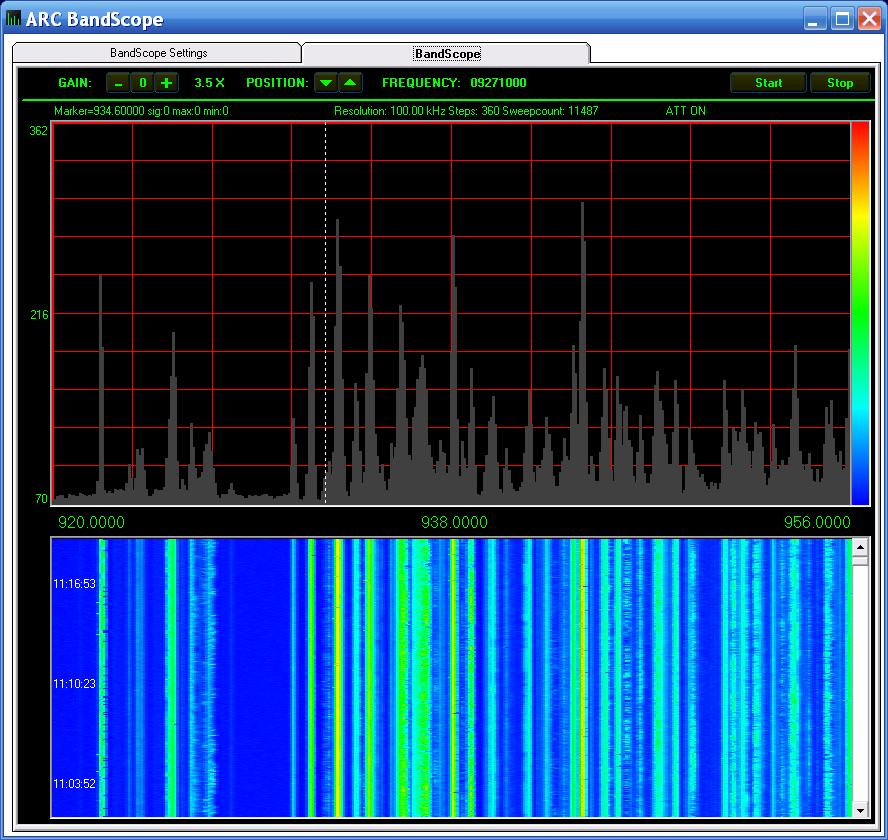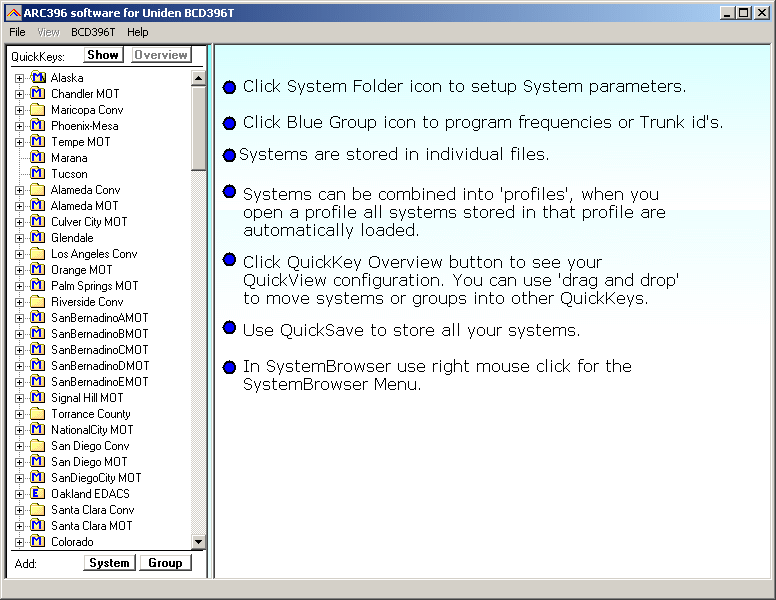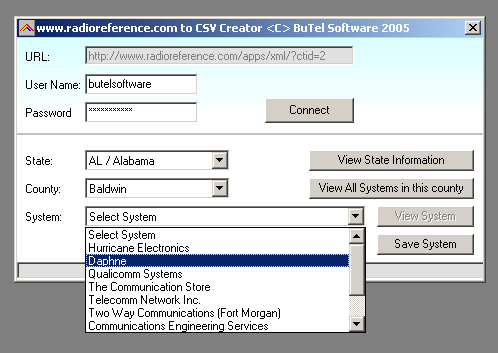 ---
* the Australian UBCD996T does not support the bandscope.
---