BuTel software home page
ARC-Sport & ARC-Sport LITE for the Uniden SC230 Nascar race scanner
'don't waste your time, get the best!'
---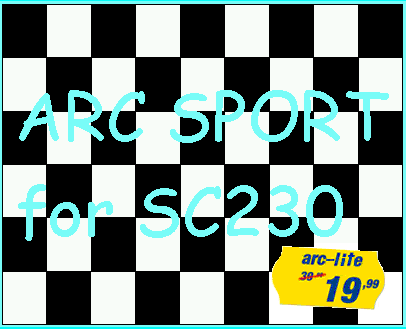 ARC-Sport for Uniden SC230 ( starting at inly US$19.95 !) is THE programming software for the Uniden SC230 Sport Nascar licensed radio scanner, you can order online or make a pitstop at one of our US based dealers.
ARC-Sport is available in 2 versions: ARC-Sport (V2.0) and ARC-Sport LITE, the lite version does not include the SC230 Virtual control option.
ARC-Sport & ARC-Sport LITE comparison sheet
ARC-Sport (US$ 39.95) is available as download or CD-rom.
ARC-Sport LITE (US$ 19.95) is available as download
---
ARC-Sport includes the most versatile Nascar race frequency editor available on the market based on proven technology used in ARC246/396, our new developed 'system browser' technology makes navigation as easy as possible.

Sort cars by carnumber or driver's name.
ARC-Sport supports the US model SC230. The European USC230 model is not supported.
Don't have a serial port? ARC-Sport & ARC-Sport LiTe are compatible with the new Uniden USB-1 cable.

QuickKey Overview: 'Drag and Drop' your sytems or groups in QuickKeys and print overview for 'on the road'.
Free lifetime updates
Copy/paste groups between systems, building new systems was never this easy!

Enhanced Virtual Control that displays active Frequency and Logs data (not available in LITE version).

'intelli upload': Replaces systems that are stored in your scanner without having to reset your scanner first! ARC-Sport will never reset your scanner!
Read/write single or selected systems from/to SC230
WebCatcher and Paste Special: Import latest Nascar etc. race frequencies directly from popular websites into ARC-Sport
WebLink: Store a website in a system file and checking for the latest updates requires only one mouse click.
FCC lookup utility.

V2.xx requires Windows XP/2000/Vista/Win7.

Radioreference.com Conventional frequencies import option.

Download ARC-Sport / ARC-Sport LITE demo version
---
Sample screenshots ARC-Sport & LiTe edition (click for larger image):
System Browser / Editor:
All your systems are shown in the 'system browser' at the left of your screen, click on a system and all data stored in that system is shown: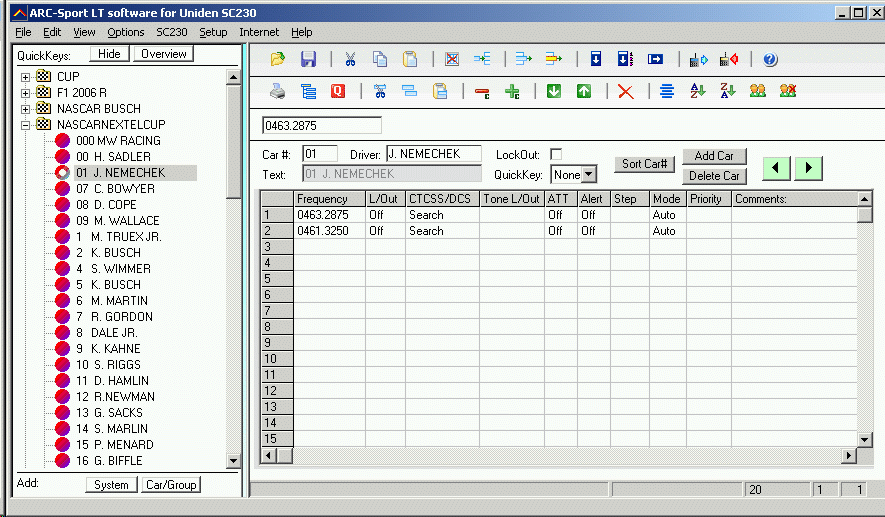 Conventional/Race System Browser / Editor:
All your systems are shown in the 'system browser' at the left of your screen, click on a system and all data stored in that system is shown: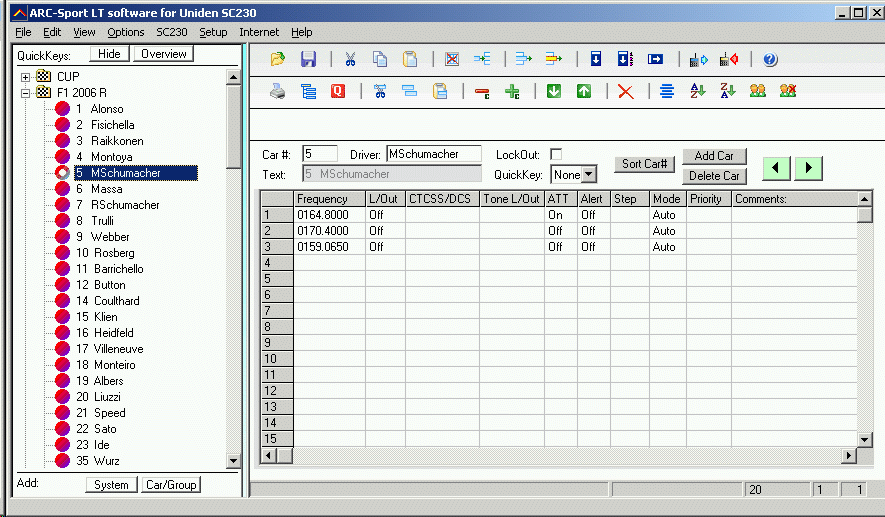 System Browser / System Editor with weblink:
Store a weblink in a system, checking for latest information only takes one mouse click: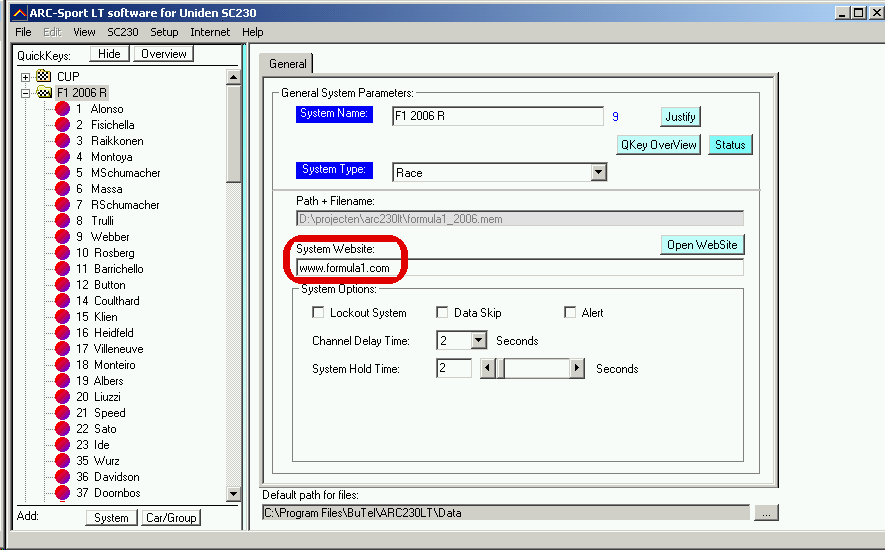 Virtual Control screen (not in LITE version):