Scanner Over IP - remote scanning radio control & monitoring software for Uniden BC785/796 scanners.
---
BuTel software home page

'Scanner over IP: AnyWhere, AnyPlace, AnyTime'
Scanner Over IP, also referred to as 'SoIP', was invented by BuTel software and is a very cost effective and efficient solution to control and monitor a scanning radio receiver over any network and monitor radio traffic remotely.
Looking for the BCD996 / BCT15 version of Scanner Over IP? Click here.
Scanner Over Ip can also be used to increase interoperability between radio communication systems.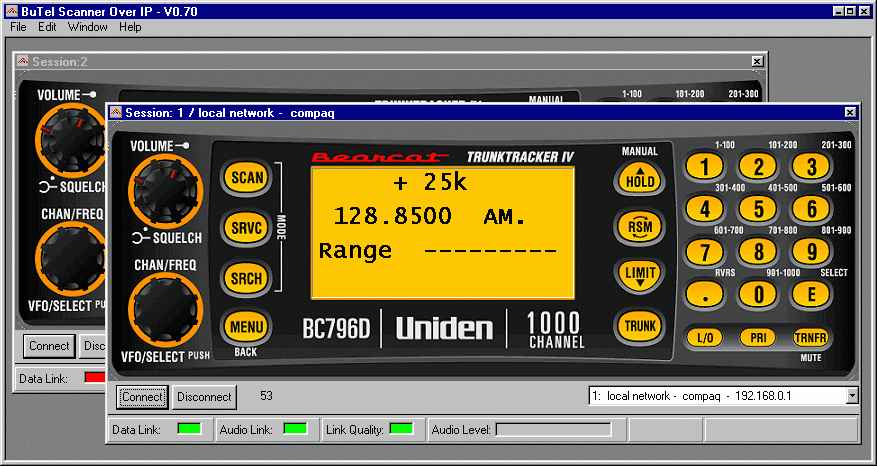 Licensing starts at only $395 for a single scanner server! For info call our US sales desk at 1-800-SCANNER or outside USA you can order online
'Scanner Over IP' uses state of the art technology like 'Voice over IP' / 'VoIP' and PCM and GSMcodecs digital sample and compression technology to stream audio over the network from the server to the client.
Several large USA TV/News media stations have now chosen our cost effective 'Scanner Over IP' solution and Scanner Over Ip is now being implemented by radio system engineers at sites all over the USA. Media stations like CBS, NBC, Clearchannel/Total Traffic Network, Fox and Time Warner Cable are all using BuTel's cost effective 'Scanner Over Ip' solution.
'Scanner over IP' is developed for professional applications, there are many applications possible for example:
News and TV media monitoring radio traffic at remote locations
Increase interoperability between radio systems
Remote Radio network performance monitoring (analog / trunk / digital APCO25)
Public safety - Monitor radio traffic in adjacent Communities
Emergency backup in case of disasters > Monitor radio traffic in adjacent Communities
Law Enforcement
Intelligence
Anti Terror intelligence
Military
Improve radio reception performance for radio rooms by placing receivers outside highly populated area's
Traffic Reporting Services
Insurance Adjusters
'Scanner Over Ip' offers a cheap but effective way of monitoring radio traffic and control a scanning radio (Uniden BC785/BC796) at any remote location worldwide.
Unlike other software solutions 'Scanner Over IP' has built in audio streaming.

Are you looking for a custom designed 'Scanner/voice over IP' solution for radio communication? Contact our USA office at 781-292-1010 / Europe +31 162 684 476 and maybe we can build the software for you.

This software is designed for professional users that want to install scanners at remote locations and monitor radio traffic from a central point. If the network connection is the internet you can install radio scanners at remote locations worldwide!

Click for larger picture: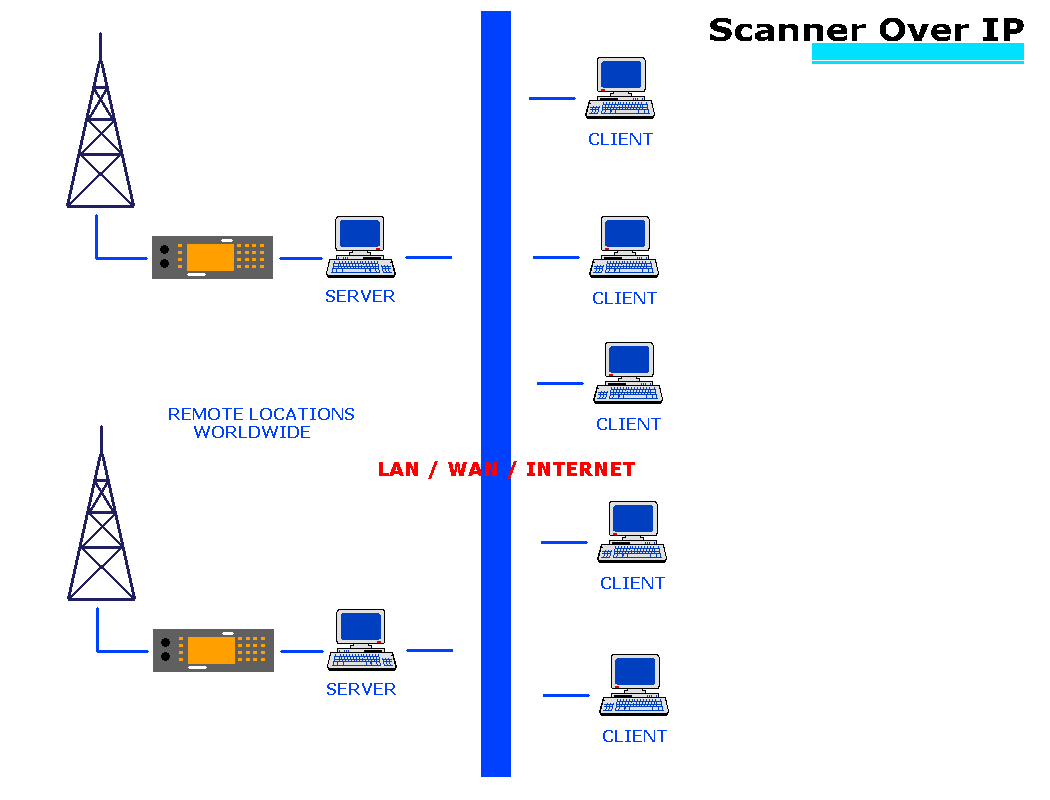 Product highlights:

- client/server solution that streams audio and scanner display/control data over a tcp/ip network
- client has full control over remote scanner
- high quality audio stream using PCM and GSMcodec technology
- short audio lag time ( typical less than 0.8 second for 11 kHz sample rates )
- server can handle up to 4 scanners at the same time *
- server can stream audio from 4 scanners in seperate streams *
- client can connect to 4 servers at the same time *
- server can stream data to 10 clients *
- client can save audio into wave files per audio stream ( VOX triggered ) *
- at client site audio can be sent to different soundcards/speakers
* depending on version and license
Minimum System requirements:
- Win XP/2000
- Scanning radio Uniden BC785D / BC796D
- LAN/WAN/wireless Ethernet network or internet ( (A)DSL / Cable / T1 / satellite / microwave)
- Soundcard(usb/pci) per scanner
- Server must have static IP address and access to firewall/modems for NATP settings or dynamic IP with dynamic DNS service like tzo.com / no-ip.com or dynip.com .
- Contact BuTel for specific system requirements
Documentation:
System requirements in PDF format 1.00
RemoteClient User Manual - 1.01
Licensing starts at only $395 for a single scanner server, for info call our US sales desk at 1-800-SCANNER or outside US you can
---