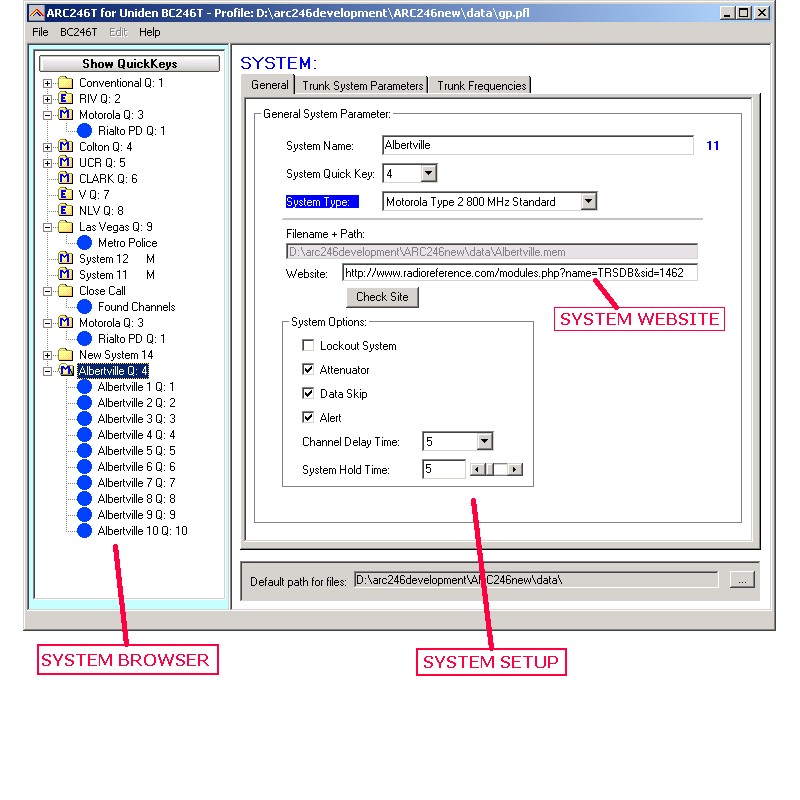  
ARC246 software
ARC246 for Uniden BC246T scanner
•ARC246 is dedicated software for the Uniden BC246T and is the most versatile software available. 
Free BC246T clone utility is included with ARC246. 
•ARC246 combines the best of 2 worlds! ARC246 can now directly access (*) the RadioReference.com Database! and import trunk and conventional systems! 
(*) Requires additional subscription to radioreference.com 
•QuickKey Overview: 'Drag and Drop' your systems or groups in QuickKeys and print overview for 'on the road'. 
•Copy/paste groups between systems, building new systems was never this easy! 
•Enhanced Virtual Control that displays active Frequency and Logs data. 
•'intelli upload': Replaces systems that are stored in your scanner without having to reset your scanner first! ARC246 will never reset your scanner! 
•Read/write single or selected systems from/to BC246T 
•Trunk WebCatcher: Import Trunk id's and tags directly from popular websites 
•WebLink: Store a website in a system file and checking for the latest updates requires only one mouse click. 
•Don't have a serial port? ARC246 also works with the Uniden USB-1 cable. 
•Windows 7/8/10 
•All updates are free