BuTel software home page
ARC_DV1 : 'THE' choice of professionals!
Buy with confidence from the scanner software market leader!
---
ARC DV1 is dedicated software for the new AOR AR-DV1 digital receiver! ARC DV1 is the best selling and cheapest programming software for the DV1 and is available at AOR dealers worldwide. ARC DV1 PRO includes all features of ARC DV1 BASIC plus a very enhanced virtual control with logging and audio recording used by many government agencies worldwide!
ARC DV1 BASIC is the AOR preferred software for the DV1 and is now available at AOR dealers worldwide! By popular request we now also offer a site license for ARC DV1 PRO for 5 receivers.
Purchase AOR DV1 PRO GSSI option at AOR website, for support contact AOR

Screenshot from our versatile memory editor:

Screenshot from ARC DV1 PRO VC: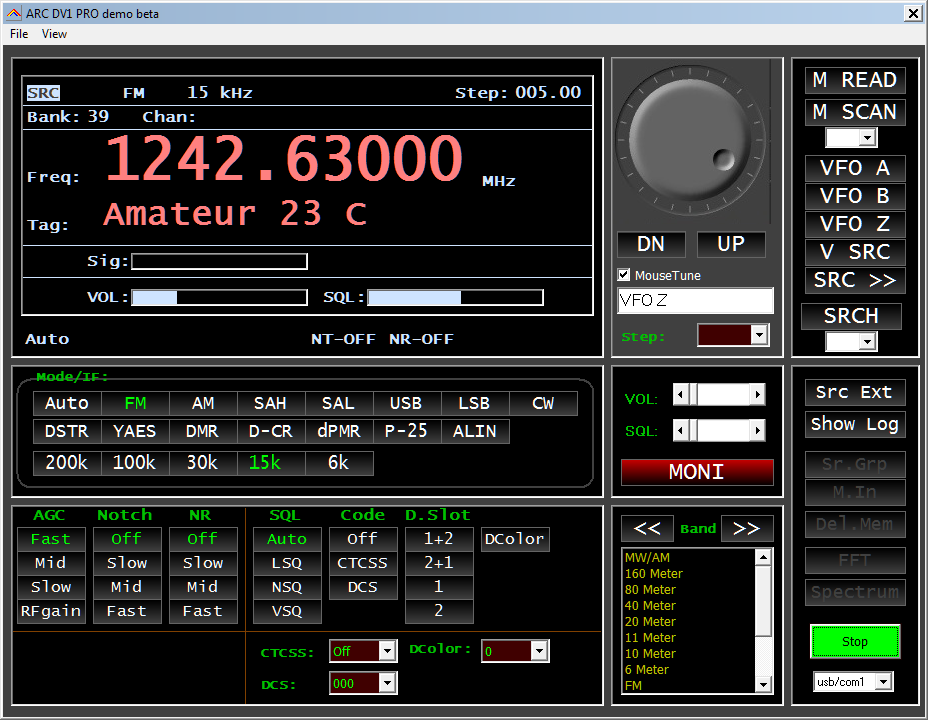 Screenshot from ARC DV1 PRO VC with Tetra support: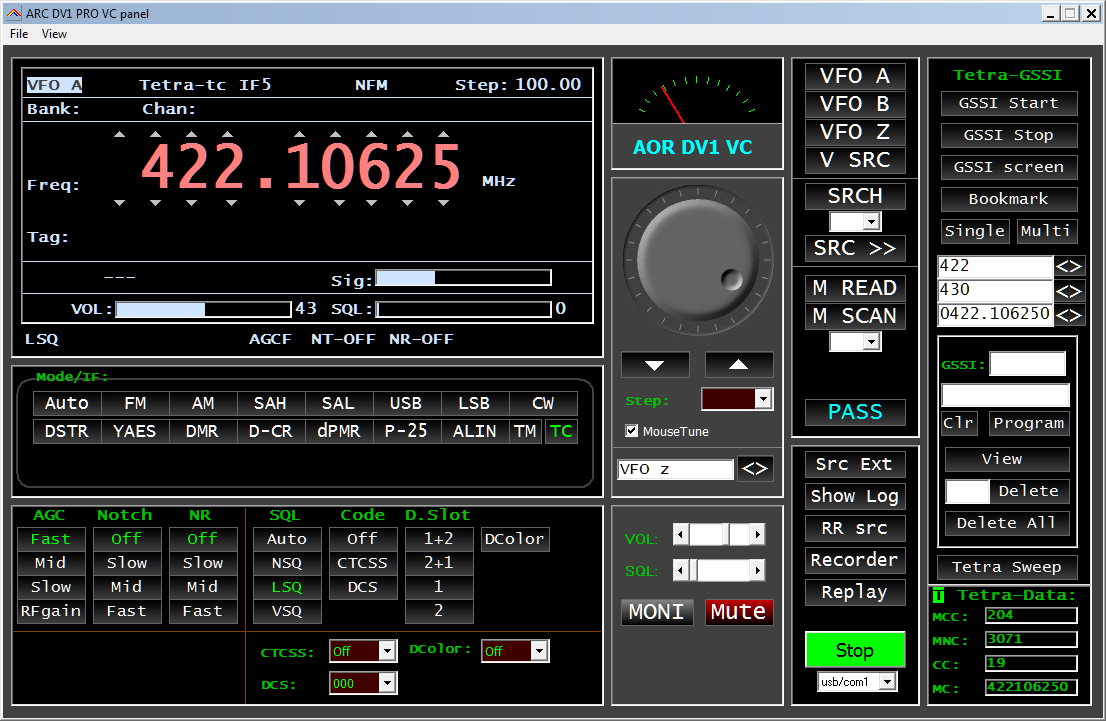 ---
Overview of options in ARC DV1 basic and pro:
Download the ARC DV1 BASIC or PRO software demo.
ARC DV1 will program the following parameters per channel: Frequency, Tag, Mode, Pass, Automode, Step, CTCSS, DCS, IF bandwidth, Squelch mode, P25NAC, DMR Slot, DMR color code, squelch mode(LSQ/NSQ), voice squelch, Notch, RF Gain, NB, AGC, NXDN, Offset and PASS.
Radioreference.com Conventional frequencies import option
Import frequencies DIRECTLY from any website using WebCatcher or 'Paste Special'
Unlike other software solutions for DV1 ARC DV1 works with all firmware versions
Setup channels in an easy, spreadsheet type interface.
Setup scan and search bank links.
ARC DV1 PRO is in use at many government agencies worldwide, we also make custom versions of ARC DV1 PRO.
Edit search pass frequencies
Setup the 40 search ranges in an easy, spreadsheet type interface.
Edit offset frequencies
Manage the SD card using software
Playback SD card wav files
Store Unlimited number of configurations on your harddisc.
Easy Copy/Move/Swap memory banks / memory channels
Compatible with Windows 7 / 8 / 10 (both 32 and 64 bit versions)
Easy cut/copy/paste data between channels and banks.
Enhanced Import/Export CSV data
Fill down/series option
Full clipboard support for import/export data to/from other applications
Easy data toggle with mouse double click or space bar or keyboard shortcuts
Sort frequencies per bank
Free limited updates
Supports usb/comports 1-99
Automatic clock programming
Remove and find duplicate frequencies
Print option
Export to HTML
Strictly NO refunds on software. Try the demo first before making any purchase.

Extra options in ARC DV1 PRO:

ARC PRO is the most enhanced virtual control for the AOR DV1
Access most receiver functions with a single mouse click.
Tune the receiver using the mouse scroll wheel.
Fast tune the receiver using speed mouse control.
'analog' style s-meter
Live Radioreference search option *
Realtime data logging with time and date stamp
'no loss' PC Audio Recorder
Instant Replay
Log detected Digital modes
Log detected subtones including ctcss, dcs , P25 , CC and nxdn.
Not limited to SD card storage size for recording
Recordings are filed in folders per date and hour for easy playback
Log and resume for ultra fast logging
Log to CSV
GPS lookup tool
Quick tune to a new band using the built-in band function
Quick access to over 250 (!) preprogrammed search ranges using our famous search range extender
ARC DV1 PRO manual addendum

---

Comparison sheet ARC-DV1 Basic & Pro :

| Option | ARC-DV1-BASIC | ARC-DV1-PRO |
| --- | --- | --- |
| Enhanced Editor for frequencies | Yes | Yes |
| RadioReference Imports | Yes | Yes |
| Import frequencies from any website | Yes | Yes |
| Edit Pass Frequencies | Yes | Yes |
| Edit Bank Link Settings | Yes | Yes |
| RadioReference Search | Yes | Yes |
| GPS lat/long lookup | Yes | Yes |
| Enhanced Virtual Control | No | Yes |
| Analog S-meter | No | Yes |
| PC Audio Recorder | No | Yes |
| Instant Replay | No | Yes |
| Data logging/history | No | Yes |
| Log to CSV | No | Yes |
| Log and Resume | No | Yes |




---

System Requirements:

Windows 7/8/10 (all 32+64 bit versions)
AOR AR DV1
micro USB PC interface cable (included with AR DV1)
Firmware 16xx or higher
1/8 " audio cable for recording in ARC DV1 PRO
Pricing:
Software license fee is only 49.95 (excl. vat/tax) per receiver for ARC DV1 basic or 79.95 (excl. vat/tax) per receiver for ARC DV1 PRO. Contact us for multiple receiver site license pricing details. For US you can order by phone: 1-800-SCANNER or visit Scannermaster.com or look for an AOR dealer near you.

Order your copy of ARC DV1 today !
Important: ARC DV1 basic is programming software only! Strictly no refunds on any software purchase.
---
Screenshots:

Our versatile data editor:
CSV import and mapper: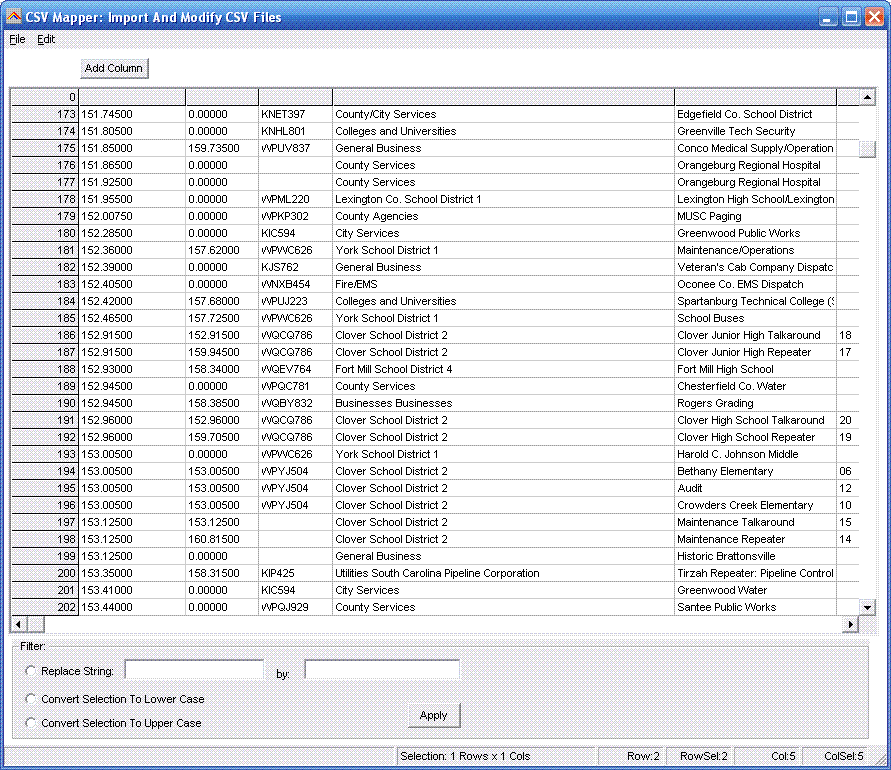 Banklink editor: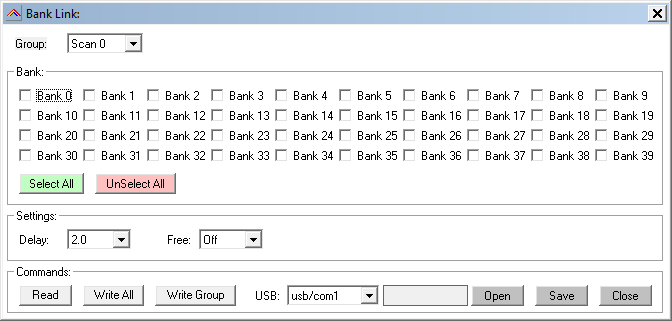 Pass frequency editor: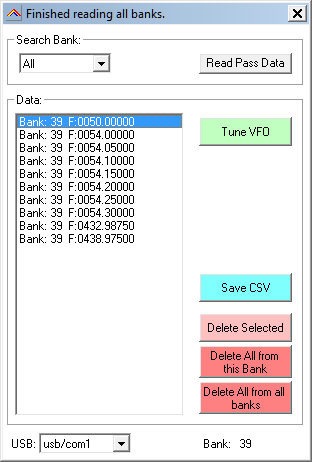 Offset data editor: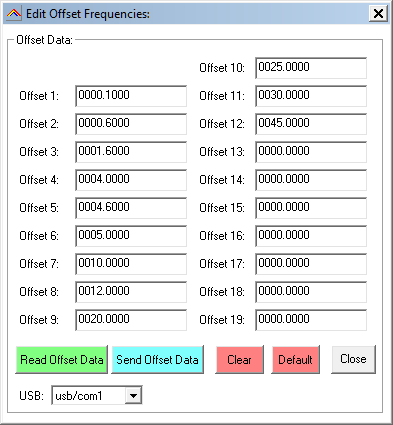 RadioReference import: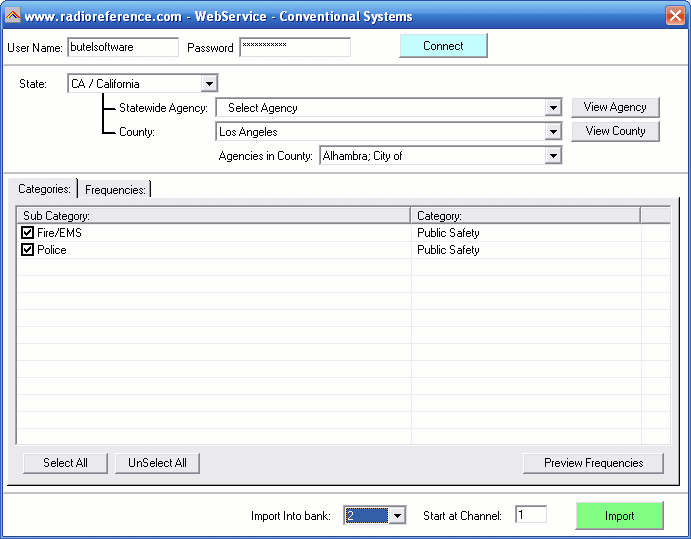 SD card manager: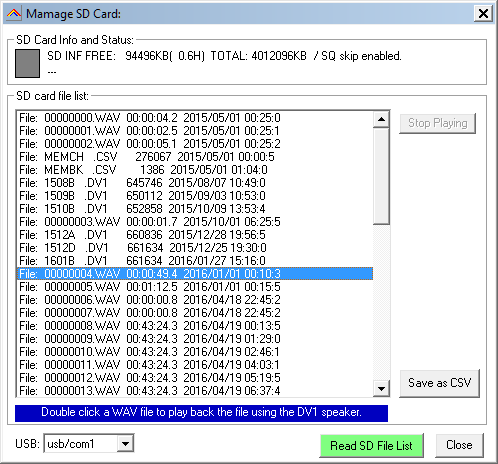 Screenshots of Virtual control in ARC DV1 PRO: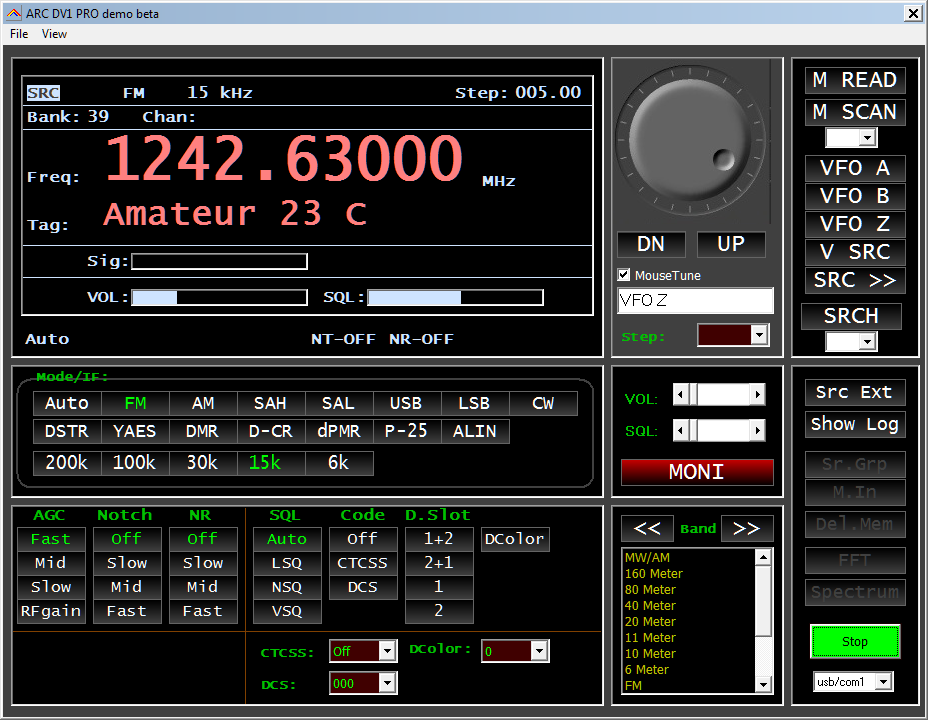 Search Range Extender: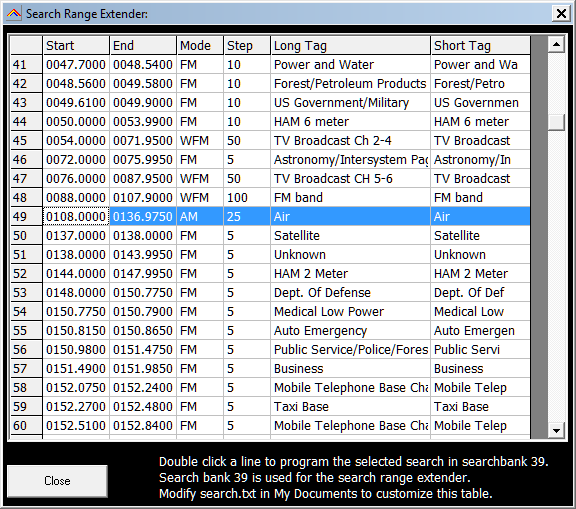 Realtime RadioReference frequency search: