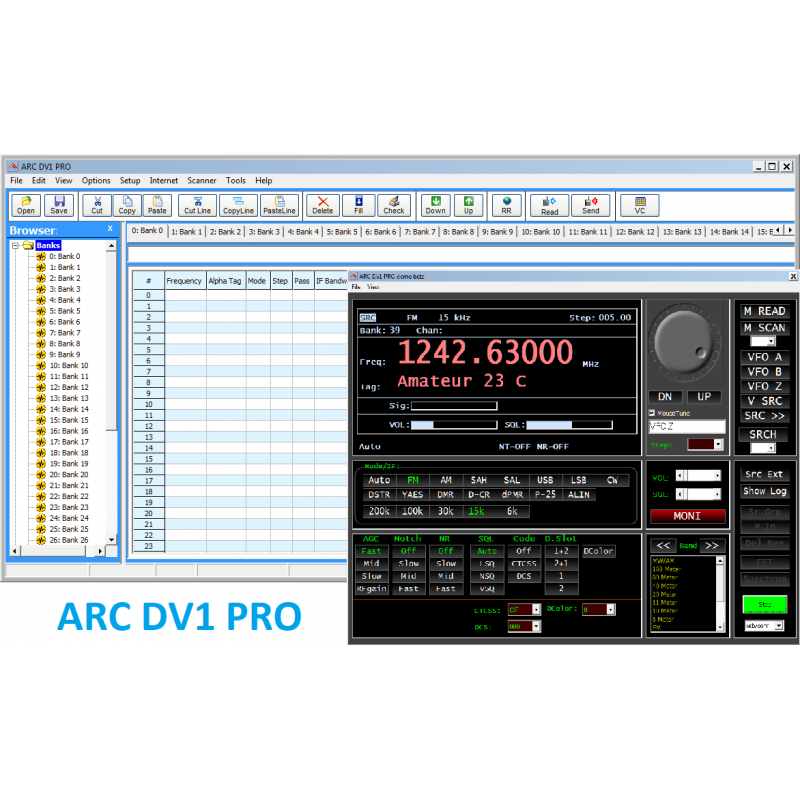  
ARC DV1 PRO software download
ARC DV1 PRO Windows programming and virtual control software for AOR AR DV1 receiver. Software is NOT compatible with AOR AR DV10.
2023 release now available!
ARC DV1 PRO also supports TETRA.
https://www.youtube.com/watch?v=C9mB76me7h8
Strictly no refunds on software downloads, try the free demo before making your purchase.
Overview of options in the ARC DV1 PRO software for the AOR AR DV1 receiver: (Software is NOT compatible with AOR AR DV10)
ARC DV1 PRO is the most versatile memory editor available on the market, including cut/copy/paste options!
ARC DV1 PRO includes a user-friendly 'browser' that makes navigating the software a breeze
ARC DV1 PRO is programming software and Virtual control
Display and log Tetra MCC, MNC and CC data !
Easy cut/copy/paste options\
Quickly edit and change alpha tag case (convert to lower/UPPER/Special/MiXeD case)
Radioreference.com* import option for conventional!
Print option
Paste Frequencies directly from any website using 'Paste Special'
Setup channels in an easy, spreadsheet type interface.
Store unlimited number of configurations.
Windows 7 / 8 / 10 / 11 compatible
All updates are free for registered users
Copy/Move/Swap banks
Move channels up and down
Import/Export CSV data
Fill down/series option
Full clipboard support for import/export data to/from other applications
Enhanced sorting options
Remove/Find duplicates with overview
* Radioreference import requires additional subscription and is NOT included with the software
Extra options in ARC DV1 PRO:
ARC DV1 PRO is the most enhanced virtual control for the AOR DV1
Access most receiver functions with a single mouse click.
Tune the receiver using the mouse scroll wheel.
Fast tune the receiver using speed mouse control.
'analog' style s-meter
Live Radioreference search option *
Realtime data logging with time and date stamp
'no loss' PC Audio Recorder
Instant Replay
Log detected Digital modes
Log detected subtones including ctcss, dcs , P25 , CC and nxdn.
Not limited to SD card storage size for recording
Recordings are filed in folders per date and hour for easy playback
Log and resume for ultra fast logging
Log to CSV
GPS lookup tool
Quick tune to a new band using the built-in band function
Quick access to over 250 (!) preprogrammed search ranges using our famous search range extender
ARC DV1 PRO manual addendum
Tetra support
System requirements:
Windows 7/8/10/11
AOR AR DV1 receiver
USB PC cable
IMPORTANT: this sofware is NOT COMPATIBLE with the AOR AR DV10 receiver!
Product Delivery:
Software key is electronically delivered by email within 24 hours
Key words: aor dv1 ard pro dv tetra dv10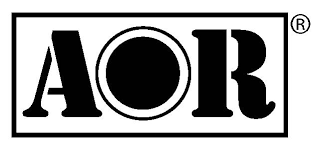 Data sheet
Scanner Model

AOR AR DV1

Delivery Type

Delivery by email within 24 hours

Windows

Windows 7 / 8 / 10 / 11

Program type

Programming and virtual control

Program options

CSV support
Free updates
Print option
Radioreference.com import
You might also like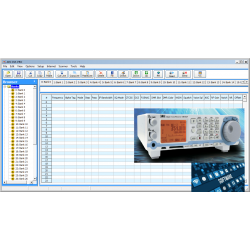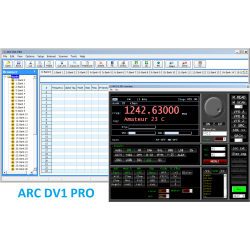 Regular price
€999.00
-€100.00
Price
€899.00