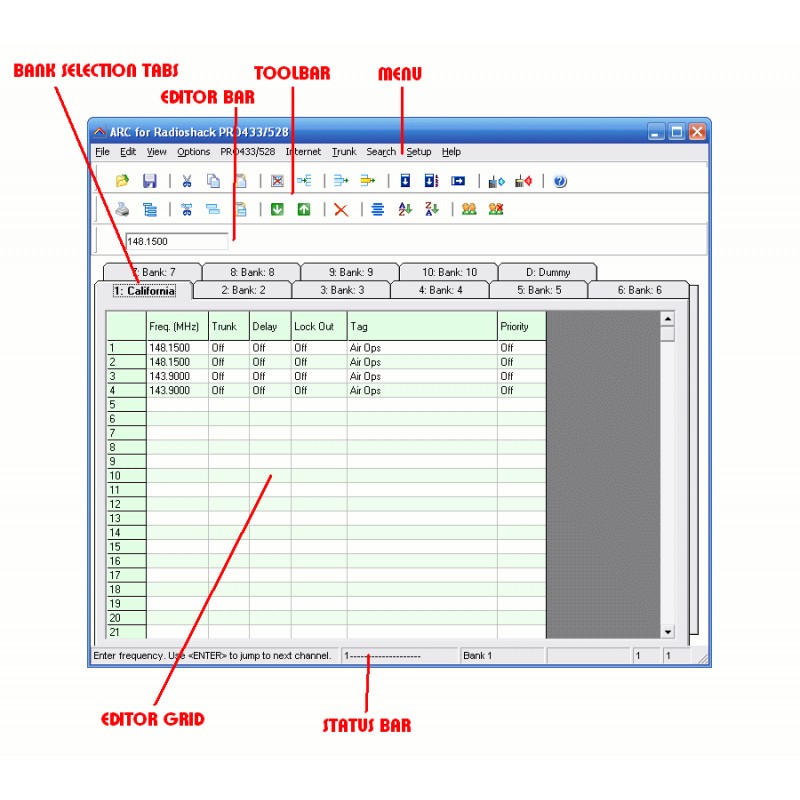  
ARC433 software download
ARC433 is dedicated software for the RadioShack PRO433, PRO528 and PRO-2051 and is the most versatile software available for the Radio-shack PRO-433 / PRO-528 / PRO-2051.
Windows 7/8/10/11 users make sure to use admin rights, click here for info.
Strictly no refunds on software downloads, try the free demo before making your purchase.
ARC433 supports the Radioshack PRO433, PRO528 and PRO2051 models in one single software package.
ARC433 includes THE most versatile memory editor available on the market.
Radioreference.com import option for conventional and trunk systems! Programming your scanner was never this easy!
Windows 7/8/10/11 compatible (requires administrative settings)
Enhanced CSV file import and 'mapper'
Paste Frequencies DIRECTLY from any website using 'Paste Special'
Setup channels in an easy, spreadsheet type interface.
User Manual (45 pages, PDF file)
Store Unlimited number of configurations on your harddisk.
Copy/Move/Swap memory banks / memory channels
Compatible with 7 / 8 / 10 / 11
All updates are free for registered users
Easy cut/copy/paste data between channels and banks.
Move channels up and down with quick move buttons
Export CSV data
Fill down/series option
Full clipboard support for import/export data to/from other applications
Easy data toggle with mouse double click or space bar or keyboard shortcuts
Sort frequencies per bank
Remove duplicate frequencies
Easy Fill for setting up new banks in a few seconds (enter a start frequency and a step, and easyfill will calculate and fill the selected bank)
Extra Dummy bank for storing temporary data while you are re-organizing your scanner channels.
Print option
System Requirements:
Windows 7/8/10/11
Radioshack PC interface cable 20-047 or 20-546 or the GRECOM USB cable
IMPORTANT: Radioshack cables 20-048 and 20-049 do NOT work with the Pro-433/528/2051
Use other cables at your own risk! Use the ARC433 demo version to verify communication works before purchasing the software! All software sales are final